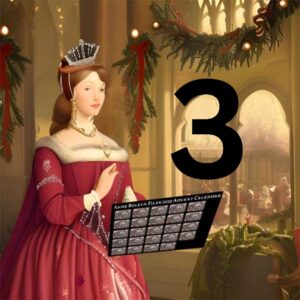 It's 3rd December and that means it's time for the third treat from our Anne Boleyn Files Advent Calendar!
Today's Tudor treat is from Ashley Risk, who runs an Instagram page dedicated to recreating historical portraits in a semi-realistic manner. Thank you, Ashley!
Click here, on the image or on the website header to enjoy Ashley's work right now and to catch up with days 1 and 2.
And you can enjoy day 3 of my series "The Tudors in their own words" on my YouTube channel at https://youtube.com/shorts/ICXdF5-exeI?feature=share
By the way, do remember that you can order our Anne Boleyn Files Tudor Calendar 2023 from Amazon. Here's the link for Amazon.com – https://www.amazon.com/Anne-Boleyn-Files-Tudor-Calendar/dp/8412595319/ – but it's also on the other Amazon sites.