Day 23 of the Anne Boleyn Files Advent Calendar
Posted By Claire on December 23, 2018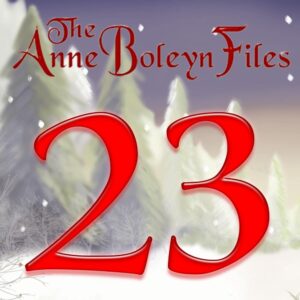 Happy Sunday! I hope you're having a lovely weekend so far. I'm here to give you an excuse to sit down for a few minutes and enjoy a Tudor-themed treat. Stop rushing around and just rest for a minute or two.
Author Lissa Bryan has contributed today's Anne Boleyn Files Advent Calendar treat and it's an Anne Boleyn one – yay! Thank you, Lissa!
To enjoy Lissa's treat, just click on the number here in this post or use the link in the cover image of this website.
See you tomorrow!