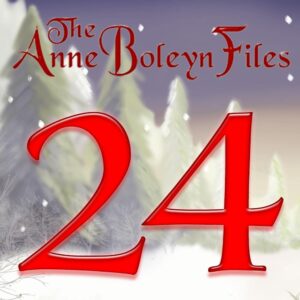 Sadly, it's the final day of our Anne Boleyn Files Advent Calendar. I have one last Tudor treat for you, and it's a yummy one.
I do hope you've enjoyed the Advent Calendar. Do feel free to use it to get your Tudor 'fix' over Christmas by visiting days you've missed or by doing it all over again. All you have to do is click on the link in the cover image at the top of this website or go to https://www.theanneboleynfiles.com/advent2018/.
A big thank you to those who contributed Tudor treats for our 2018 Advent Calendar and to Anne Boleyn Files followers for using the calendar.
If you need a daily dose of Tudor history to keep you sane over the festive period then you can browse the archives here at the Anne Boleyn Files or have a look around the Tudor Society.
I hope you have a wonderful Christmas!