Posted By Claire on September 17, 2018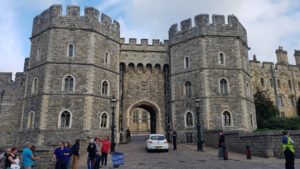 After a breakfast spent gazing out of the hotel window at Windsor Castle opposite, our group had a guided tour of Windsor Castle. Our guide, Amanda, gave us a Tudor-focused tour, giving us an overview of the castle's history and then pointing out the parts built by our very favourite dynasty. She also pointed out parts that we all saw on TV back in May when Prince Harry married Meghan – we walked where George Clooney walked – ha!
We couldn't have asked for a better day as it was lovely and sunny. I think my favourite part was visiting the chapel and saying hello to Henry VIII and Jane Seymour, as well as Charles Brandon, Edward IV and Elizabeth Woodville, Henry VI and a few others, and also seeing the stall plates of some of my favourite Tudor Knights of the Garter. It really is a jaw-droppingly beautiful place.