Posted By Claire on September 20, 2018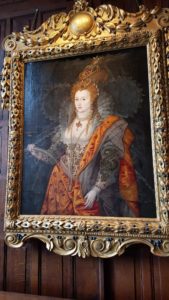 After breakfast, we said goodbye to the Harte and Garter Hotel and travelled on to Hatfield House in Hertfordshire.
Although the main palace is Jacobean, having been built in 1611, in the reign of James I, it houses many treasures from the time when there was a 15th century palace on the site, the home that Elizabeth knew in her childhood and youth. The only part of that former palace that still survives today is the part of the houses that houses the Banqueting Hall with its wonderful original timber roof.