Posted By Claire on September 20, 2018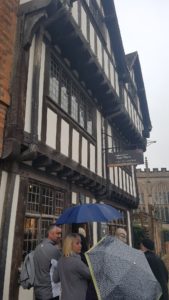 I grew up near Stratford-upon-Avon so today was a special day for me, seeing my home area through the eyes of others and also seeing places that had been on my doorstep for years but that I'd taken for granted and never visited, or that hadn't been open when I lived here.
As a huge Shakespeare fan, I had ben waiting for this day of the tour with bated breath and as good luck would have it, it came round quickly. The weather forecast predicted that the day might not be for the faint-hearted, with rain and drizzle forecast, but all's well that ends well and the day really was such stuff as dreams are made on. Sorry, that's too much of a good thing and I think I'll stop the Shakespeare phrases and get on with the diary entry!