Posted By Claire on September 21, 2018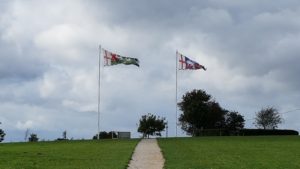 After another yummy breakfast the Arden Hotel's veggie cooked breakfast is delicious, by the way – we headed off to spend the morning at Kenilworth Castle.
Kenilworth Castle dates back to the 12th century, but for us Tudor history lovers it's the link with Robert Dudley, Earl of Leicester, that gets us excited. Leicester, who was of course Elizabeth I's good friend and favourite, and, I believe, the love of her life, was granted the castle in 1563. In 1575, the Queen visited Kenilworth Castle for 19 days, the longest visit she made to any courtier, and Leicester made many changes to the castle in anticipation of her visit, including creating a chase, building a gatehouse and bridge over the mere, building a four-storey block of state apartments, and creating a beautiful privy garden. He also commissioned special entertainments for the queen in a last-ditch attempt to woo her.