Posted By Claire on September 22, 2018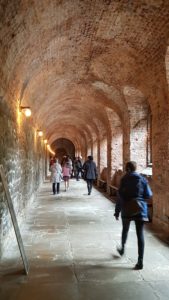 After another delicious breakfast at the Arden Hotel in Stratford-upon-Avon – French toast and I shared it with Francis I and Elizabeth I, as you can see! – we said our goodbyes to Stratford and set off for London. We arrived in London for lunch and then headed to London Charterhouse.
London Charterhouse has such a fascinating history. The land was used as a burial site for victims of the Black Death in 1348 and then in 1371, the Carthusian monastery was built. You might remember me telling you about that Carthusian Martyrs of Henry VIII's reign, monks from this very monastery who refused to sign the oath recognising Henry VIII as supreme head of the Church in England and who were brutally executed or starved to death. The monastery was dissolved in the 1530s and it then passed through the hands of Sir Edward North; John Dudley, Duke of Northumberland; North again; Thomas Howard, 4th Duke of Norfolk; Philip Howard, 13th Earl of Arundel; Elizabeth I; Thomas Howard, Earl of Suffolk, and Thomas Sutton. Elizabeth I visited it on several occasions.