Posted By Claire on September 24, 2018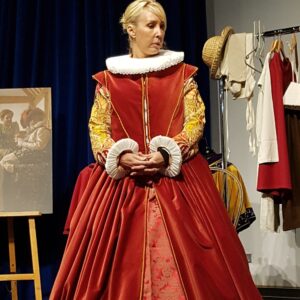 I can't believe that today was our last full day on the tour and that I will soon be saying goodbye to these lovely lords and ladies. We have gelled so much and I know that we have made friendships that will last a lifetime. It's wonderful that Tudor history can bring us together like this.
After another delicious breakfast, this time at the Doubletree by Hilton near the Tower of London, we headed out for the day. Although it was raining – well, we did have to give our group the true British experience! – we decided to stop off at the Tower Hill scaffold site to explain its relevance, as many people miss this entirely. So many important Tudor personalities lost their lives there, so it was good to visit and remember them. We then made our way down to the River Thames, at Tower Wharf, right where Anne Boleyn disembarked on 2nd May 1536 when she was taken to the Tower to be imprisoned, to catch the Clipper, the river bus service that would take us to Bankside, where Shakespeare's Globe is located. It was wonderful seeing lots of London sights from the river and in just a few short minutes we were at Bankside.