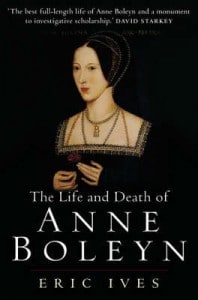 I thought it was about time that I updated our Anne Boleyn Books page so I thought I'd ask you all what you consider to be the best Anne Boleyn fiction and non-fiction books.
Here are my favourites, but please do comment below if you have a recommendation and then I can get the page sorted out. You can click on some of the titles below to read my reviews.
Non-fiction
These are the books that I use on a regular basis for research and inspiration:-
"The Life and Death of Anne Boleyn" by Eric Ives – THE Anne Boleyn book. This is the one that I always recommend because it covers just about everything, an Anne Boleyn handbook!
"The Lady in the Tower" by Alison Weir – What I love about this one is that it concentrates on Anne Boleyn's fall and the events of 1536. The reader gets detailed information about all of the events leading up to Anne's execution and great bios on all of the people involved.
"Anne Boleyn: A New Life of England's Tragic Queen" by Joanna Denny – Yes, Denny can be a bit OTT in defending Anne and can sometimes come across as slightly anti-Catholic but this book still has its merits and is packed full of great information about Anne's life.
"The Rise and Fall of Anne Boleyn" by Retha Warnicke – While I don't like Warnicke's opinion of George Boleyn and the other men involved in Anne's fall, I still think this is a brilliant academic history book on Anne's rise and subsequent fall.
"Anne Boleyn" by Paul Friedmann – This 19th century biography has just been edited by Josephine Wilkinson and re-released by Amberley books and I find it incredibly useful. Friedmann makes excellent use of primary sources.
"The Early Loves of Anne Boleyn" by Josephine Wilkinson – A great book for information on the men Anne Boleyn was linked to, including James Butler, Henry Percy and Thomas Wyatt. It also covers her marriage and her fall.
"Anne Boleyn: Fatal Attractions" by G W Bernard – An interesting one that caused a stir in the Tudor world! Bernard actually thinks that Anne Boleyn may have been guilty and he also has interesting theories regarding Anne Boleyn's faith and her role in the Reformation. One to read to give you a balanced view and Bernard also backs up his arguments well with primary sources.
"Anne Boleyn: Henry VIII's Obsession" by Elizabeth Norton – A highly readable and interesting biography of Anne Boleyn.
Six Wives: The Queens of Henry VIII by David Starkey
The Six Wives of Henry VIII by David Loades
The Six Wives of Henry VIII by Alison Weir
I use all three of the six wives' books for research, along with biographies of each wife.
Fiction
It is tricky to choose Anne Boleyn fiction because we all have our own idea of Anne and it can be frustrating to read a novel which you feel gets her completely wrong!
The Other Boleyn Girl by Philippa Gregory – You either love this book or hate it and it can cause serious disagreements. We've all heard of forums and websites where you can't even mention Philippa Gregory. I can't dispute the fact that this is a real page turner, but I really didn't like how Anne was portrayed or Gregory's view on Anne in the accompanying notes.
Murder Most Royal by Jean Plaidy – I loved this novel because it was the nearest to "my" Anne and it also helped me understand Henry's feelings and motivation.
The Secret Diary of Anne Boleyn by Robin Maxwell – I love the storyline of this one as we all wish that Anne had left something for Elizabeth to learn about her story.
The Queen's Governess by Karen Harper – This books opens with Anne Boleyn's execution and is about Elizabeth I's governess, Kat Ashley, and a secret treasure Anne Boleyn entrusted her with.
Let me know in the comments below which Anne Boleyn books you have enjoyed and why. Thanks!