Posted By Claire on June 16, 2022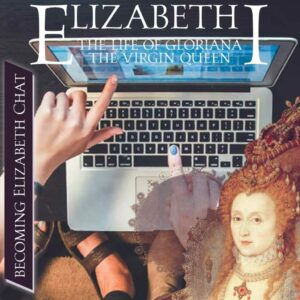 There's nothing like talking Tudor to people who know what you're on about, whose eyes don't glaze over and who are as interested in Tudor history as you are – that's real Tudor fun! That's why I'm really excited about dissecting episode 1 of the Starz series "Becoming Elizabeth" with other Tudor history lovers this Friday, 17th June.
These weekly chats on the series are part of my online Elizabeth I event, "Elizabeth I: The Life of Gloriana, the Virgin Queen", which starts properly in September. It's 10 days (plus these chats and plus a bonus talk in July) of expert talks from historians and live Q&A sessions with them. It's always great to get the opportunity to ask historians your burning questions.
To join our weekly chatroom discussions on "Becoming Elizabeth", you need to register for the event at https://claireridgway.com/events/elizabeth-i-the-life-of-gloriana-the-virgin-queen-online-event-7-16-september-2022/. You'll then be able to log in and join the chatroom on my author website.
The chats will be weekly and here are the timings of this week's one on episode one:
London, UK – Friday 17 June at 10pm
Madrid, Spain – Friday 17 June at 11pm
New York, US – Friday 17 June at 5pm
Los Angeles, US – Friday 17 June at 2pm
Sydney, Australia – Saturday 18 June at 7am
Adelaide, Australia – Saturday 18 June at 6.30am
You can check other time zones at https://www.timeanddate.com/worldclock/converter.html
Each chat will last an hour.
I do hope you can come!
Register now at https://claireridgway.com/events/elizabeth-i-the-life-of-gloriana-the-virgin-queen-online-event-7-16-september-2022/