Elizabeth I online event – Registration open now!
Posted By Claire on June 13, 2022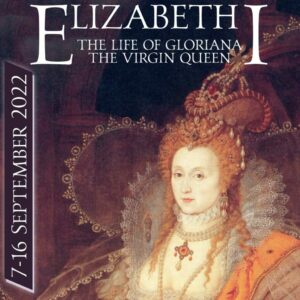 After the success of my previous two online events, I'm excited to announce my third, and it's on Queen Elizabeth I, daughter of Anne Boleyn.
"Elizabeth I: The Life of Gloriana, the Virgin Queen" is a completely online event, so you can listen to expert talks and participate in Q&A sessions and chats from the comfort of your own home.
The main talks and Q&A sessions run from 7-16 September 2022, BUT we also have a bonus talk and Q&A session on the death of Amy Dudley (née Robsart) in July, AND we have weekly chatroom sessions while the STARZ series "Becoming Elizabeth" is being aired. Out first chat is 17th June! We can dissect and discuss each episode – hurrah!
Let me tell you a bit more about my Elizabeth I event…
I'm sure you know me by now, but I'm historian and best-selling author Claire Ridgway. As well as having written 12 (nearly 13!) books on Tudor history, I'm also the creator of the Anne Boleyn Files, Elizabeth Files and Tudor Society websites. Next to the Boleyns, Elizabeth I is my favourite historical personality and one I've spent a good few years researching.
I'm being joined in my Elizabeth I event by six other Tudor experts:
Linda Porter
Tracy Borman
Estelle Paranque
Owen Emmerson
Elizabeth Goldring
Christine Hartweg
You'll be able to enjoy talks from these Elizabeth I experts online and ask them your questions in real time. We will bring this iconic queen to life for you and give you a new understanding of the challenges she faced as a 16th-century queen and daughter of a condemned traitor.
Check out the schedule at https://claireridgway.com/events/elizabeth-i-the-life-of-gloriana-the-virgin-queen-online-event-7-16-september-2022/ and be sure to register soon so that you don't miss our first weekly chat on Friday 17th June!
Registration costs just $249 and you'll get:
Weekly chatroom chats starting 17th June while "Becoming Elizabeth" is airing
Membership of our private Facebook group where you can interact with Claire and others who are part of the event
10 days of video talks (with subtitles and transcripts) and livestreamed talks, and live Q&A sessions with 6 Tudor historians in September 2022
Bonus talk and Q&A session with historian Christine Hartweg on the Death of Amy Robsart in July
Souvenir event e-book with transcripts of all the chats and talks for you to enjoy
Recommended reading and resources list
AND an advance digital copy of my forthcoming book, "On This Day in Tudor History 2"
We all had a fabulous time talking Tudor in my March and May events so I can't wait for this one! I do hope you can join us!
This event is for you if:
You want to gain fresh insights into Queen Elizabeth I, both as a queen and 16th-century woman
You want to understand the challenges Elizabeth I faced during her life
You're curious about the true nature of Elizabeth's relationship with Robert Dudley
You want to know about the different theories regarding Amy Robsart's death and which one makes the most sense
You want to know if Elizabeth really was the Virgin Queen
You're interested in knowing more about the women who influenced Elizabeth in her early life and who served her as queen
You'd like to know about Elizabeth's relationships with the powerful French royals
You'd like to know more about the famous rivalry between Elizabeth and Mary, Queen of Scots
You're interested in knowing whether Elizabeth really did ignore her Boleyn roots
You want to know more about the men Elizabeth trusted and relied on
You want to pay tribute to the Virgin Queen, talk Tudor and spend time with like-minded people
You want to discuss "Becoming Elizabeth" with people who are as interested in Elizabeth's real life as you are