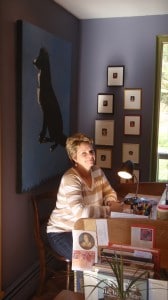 I've just added a new range of artwork to The Anne Boleyn Files shop – Handmade Shrinky Dink portraits of the queens by artist Ellen Melchiondo. They really are amazing and here is an article about Ellen and her miniature portraits:-
I really cannot remember where or when it all began! While doing last night's dishes this morning, I was thinking about this subject. I think it all started by watching the movie Romeo and Juliet by Franco Zefferelli. I was probably 10 years old at the time. But where I saw the movie, I cannot remember that either. Most likely my mother took me to see it in a theatre. She has always been interested in all things royal and cruel! I loved, and still do, the fashion, jewelry, socio and political life juxtaposed with the harsh living conditions and economic inequities. I am appalled at the treatment of girls and women throughout history. I am also interested in the role of religion at the time of the Tudors. My other early and formative memory that brought me to where I am with the miniature portraits of the queens, is my love of the movie, Anne of A Thousand Days.
A few days before giving birth to my one and only heir, Michael, I was reading a book about the children of Henry the Eighth and I thought how funny it was that I knew that I was having a boy. As the contractions started, I took notes of their time apart in the back of the book and I thought, well, Henry, I am having a boy!
I cannot get it out of my mind the tremendous force that Anne Boleyn had on the course of English history and the significance that that had on the migration to The New World, America.
I enjoy very much honoring the wives and Elizabeth. I view the wives as victims of the state. I believe that they were all very brave and selfless. My fascination with Elizabeth I is also based on her originality and tenacity.
Throw in a few televised royal weddings and the tragic death of Princess Diana and I became even more interested in English royalty.
I have a BA in Studio Art from Mills College and an MS in Arts Administration from Drexel University. I taught art for about 10 years in private and public schools from kindergarten through twelfth grade.
Currently, I am a stay-at-home mom, Cub Scout den leader and a friend and advocate to a woman inmate in a prison in Pennsylvania.
I have two dogs, two cats and two fish. My husband is in a band.
The Making of The Portraits
My inspiration to make something out of Shrinky Dinks resulted from reading a review in Art News magazine of the art by Andrew Romanoff, the grandnephew of Nicholas II. His art depicts not only the world around him, but also memories of growing up on the grounds of Windsor Castle. And I thought, oh my, that is cool!
At the same time, I attended a Royal Wedding Tea in honor of William and Catherine. I bought some Shrinky Dink film and with the printed pictures of my friends and mother wearing festive hats, I traced their image onto the film and I became addicted!
Many portraits later, I decided to do a series of the wives of Henry. Since I already had a collection of books on the subject in my home, it was easy for me to find an image to work with.
This is the process:-
I find a picture that is big enough so that when it shrinks, the size will be right.
I trace the large areas of the head and body first. Then with ink, I select certain areas that will benefit from that medium. I particularly like to do the gold and silver ink work to really show off their bling!
Then I shrink it in my oven. This can be the deal breaker! Sometimes the film curls too much and the sides stick together. I try to pull them apart even though it is very hot. If the silver or gold areas touch, the piece is ruined.
Then I finish the portrait by painting enamel mostly on the back and sometimes on the front. For the background I try to do something similar from the original source. The face and skin are developed by layering 3 or 4 different colors of enamel. This gives the body a luminescent glow with a little sparkle.
The portrait is matted and framed. I chose the metal, colored frames to give the portraits a contemporary feel. (The shrinky dinks are also available unframed)
You can see Ellen's Shrinky Dink Queen Portraits on our Art Page – click here.