Remembrance Day 2011
Posted By Claire on November 11, 2011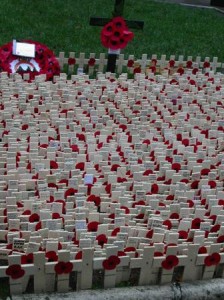 On this day, at the 11th hour of the 11th day of the 11th month, we remember all those who have given their lives in service to their country. Armistice Day, Remembrance Day, Veterans' Day, or whatever it is called in your country, commemorates the moment at 11am on the 11th November 1918 when the armistice was signed between the Allies and Germany on a railway carriage in Compiègne Forest. It was the end of the First World War.
In my home country of the United Kingdom, we remember the armistice with a two minute silence, symbolising that moment when the guns on the Western Front finally fell silent. A remembrance ceremony also takes place at the Cenotaph in Whitehall and many other ceremonies take place all over the country. We also have Remembrance Sunday, the Sunday nearest to the 11th November, which is when the National Service of Remembrance, led by the Queen, takes place at the Cenotaph and many churches have special services. Red poppies, like the ones which grew in those Flanders fields, are worn in the weeks leading up to Remembrance Day and wreaths of poppies are laid at war memorials around the country.
I leave you with the "Ode of Remembrance" taken from Laurence Binyon's 1914 poem "The Fallen":-
They went with songs to the battle, they were young.
Straight of limb, true of eyes, steady and aglow.
They were staunch to the end against odds uncounted,
They fell with their faces to the foe.

They shall grow not old, as we that are left grow old:
Age shall not weary them, nor the years condemn.
At the going down of the sun and in the morning,
We will remember them.
Lest we forget…