The Imagined Face of Anne Boleyn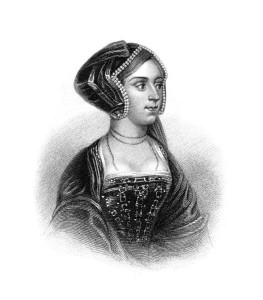 When considering a historical figure's impact, we customarily look toward large, sweeping changes and try to sort out that person's special role. Thanks to the painstaking work of Tudor historians, it is now certain that Anne Boleyn was a major catalyst for the cause of religious Reformation in England, that she helped introduce a new model of relations between monarch and church, and that in doing so she ushered in much of what we would recognize as "modern" religion and statecraft. That she did so controversially, among blood shed by others and eventually herself, draws us again and again to her fascinating story. As Suzannah Dunn writes in her novel The Queen of Subtleties, Anne "got old England by the throat and shook it until it died."
We know these myths well, of course — Anne as "whore," "scandal of Christendom," and greedy woman of ambition who would stop at nothing to become queen, always with the implication that she did not deserve her short-lived glory. Dunn's image infuses Anne's vision of England with violence and aggression, perhaps not without justification. What attracts far less attention, however, is another story of Anne's impact. I mean her impact on the imagination of women and men, all the way to the present. All of her images — from Hans Holbein's portrait to Natalie Dormer's performance in The Tudors — represent attempts to access the true face of Anne Boleyn and, in doing so, capture her elusiveness so that we may learn from her.
A personal anecdote will illustrate the point. As a teenager raised on a steady diet of art and history, I knew Anne Boleyn's name before I knew her story. In 1986, my mother took me to see Donizetti's "Anna Bolena" at the Houston Grand Opera. The incomparable Dame Joan Sutherland performed the part of the doomed queen as a majestic woman ruined by love. As the audience listened to Anne lamenting in her Tower prison cell, the composer invited sympathy for her; the set designers created a sense of impending tragedy, with crumbling walls and looming shadows in the background. I did not learn until much later that this operatic heroine was also known as a "seductress," "plotter," "tease," and "poisoner." At the time, she just seemed a pitiable victim.
Two years later I attended an exhibit titled "Drawings by Holbein from the Court of Henry VIII," which showed at the Museum of Fine Arts in Houston for less than three months. One set of drawings in particular stopped all the attendees in their tracks, beckoning for a closer look: Holbein's portraits of Henry's six wives, arranged in chronological order. Standing before the six portraits, I overheard a conversation between two women to my left. One pointed at the third portrait, and murmured, "That's Jane Seymour. They say she's the only one he really loved." Her companion changed the subject immediately: "And which one is Anne Boleyn?" The first woman pointed to the immediate left. "That one," she answered, and the two friends walked on. Gazing at the portraits of Jane and Anne, I wondered where they fit in to Holbein's world — one queen known for being loved, and the other one . . . well, simply known.
The binary is a familiar one applied women of historical importance — madonna and whore, victim and predator, hagiography and notoriety. Why is it so difficult to do justice to Anne's power without villainizing her? Historical research provides the facts to some extent, but the records are maddeningly incomplete, matters of interpretation, and often unavailable to those without academic credentials. What's more, primary sources frequently raise more questions than they answer. Art and literature fill in the gaps until we learn more, and even then, historical accuracy sometimes fails to dispel myth's hold over the human imagination. Historian Alison Weir attributes the modern obsession with Anne Boleyn to the "romance" in her story: "Anne has become idealised as a historical celebrity, often portrayed as young and beautiful. People define her, more than ever, by her sexuality, as is made explicit in The Tudors. For many, she is the ultimate victim." It can be easy to ignore her human imperfections and romanticize what she had: self-assurance, a brilliant mind, political influence, staggering wealth, and the devotion of a king. It is also tempting to ignore her mistakes, the consequences of her choices, by blaming her fate entirely on her enemies.
The truth, in all likelihood, lies somewhere in the middle — and this is the place where the enduring fascination with Anne lives and breathes. While certain portrayals of Anne in books, films, or on telelvision betray more fantasy than truth, they all testify to a very important aspect of Anne's influence: her ability to keep everyone guessing. Anne captivates us by the same means that she held Henry VIII in thrall for the long years of their courtship: her distance, alluring and yet always just out of reach. As the Tudor poet Thomas Wyatt writes, "they flee from me." Wyatt writes of the fleeting affections of his lovers, perhaps even those of Anne herself. But we can also apply the spirit of the line more broadly to the truths about Anne's life, so many of which flee from the light of discovery.
Even so, Anne's story inspires on many levels, and herein lies the measure of her influence. As the popularity of Tudor history websites like The Anne Boleyn Files and The Tudor Tutor shows, Anne's unconventional story has made general audiences into students of history, seeking to cultivate their own understanding of the truth beyond popular culture and historical fiction. Moreover, Anne's story shows that then, as now, successfully challenging the status quo requires backbone, courage, and cunning (which she possessed in abundance), as well as discretion and emotional control (at which she often faltered). Somehow, Anne's eventual fall from grace does nothing to diminish the awe and admiration she invites — we thrill, even now, to her ambition, determination, and swift rise to power. "She had been a remarkable woman," writes Professor Eric Ives. "She would remain a remarkable woman even in a century which produced many of great note. There were few others who rose from such beginnings to a crown, and none contributed to a revolution as far-reaching as the English Reformation. To use a description no longer in fashion, Anne Boleyn was one of the 'makers of history'." To exercise such influence as a woman, in a deeply patriarchal age, makes her story inspiring even today, perhaps most especially to young women. Yet as Professor Ives also observes, "historians see through a glass darkly; they know in part and they pronounce in part." The bad news here is that the true face of Anne Boleyn remains largely imagined, frustrating our desire for clarity. The good news is that, for those of us captivated by her story, there is so much more to explore.
As Wyatt wondered over four hundred years ago, "I would fain know what she hath deserved." So would we all.
by Laurie Ellinghausen Callan
Sources
Dunn, Suzannah. The Queen of Subtleties. New York: William Morrow, 2004.
Ives, Eric. The Life and Death of Anne Boleyn. Malden, MA: Blackwell, 2004.
Ridgway, Claire. "Anne Boleyn — The Mysterious and Maligned One." https://www.theanneboleynfiles.com. Retrieved February 2, 2011.
Weir, Alison. "Anne Boleyn: The Enchantments of Romance." https://www.theanneboleynfiles.com. Retrieved February 2, 2011.
Wyatt, Thomas. "They Flee from Me." The Norton Anthology of English Literature, Vol. 1. 6th ed. New York and London: Norton, 1993.