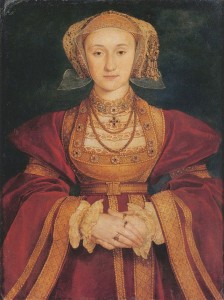 Today is the 501st anniversary of the birth of Anne of Cleves, fourth wife of King Henry VIII. You can find out about her background, how she came to be married to Henry VIII and what happened when they did marry in my article Birth of Anne of Cleves, but I thought it would be useful to give you a mini fact file of this Tudor queen consort:
Birth: 22 September 1515
Birthplace: Near Düsseldorf in the Duchy of Berg.
Parents: John III, Duke of Jülich, Cleves and Berg, an important German ruler, and his wife Maria of Jülich-Berg.
Siblings: Sybille (b. 1512); William (Wilhelm), Duke of Jülich-Cleves-Berg; Amalia (b. 1517).
Marriages: One. Anne married Henry VIII on 6th January 1540 at Greenwich Palace. Click here to read more about the marriage treaty. On 9th July 1540, the marriage was declared null "by reason of a precontract between lady Anne and the marquis of Lorraine, that it was unwillingly entered into and never consummated." Click here to read more about this.
Motto as queen consort: God Send Me Well to Keep
Badge: The escarbuncle of Cleves
Died: 6th July 1557 at Chelsea Old Manor.
Resting Place : She was buried on 4th August 1557 at Westminster Abbey. Click here to read about it.
Trivia: Although it is often said that Henry VIII called Anne a "Flanders Mare", there is no contemporary evidence to support him saying that. See Anne of Cleves – A Flanders Mare? for more on this.
You can also explore our archive of articles on Anne by using the Anne of Cleves tag.