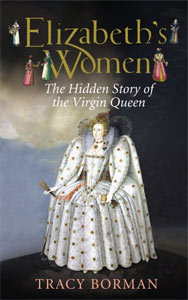 I've just been listening to BBC Radio 4's "Woman's Hour" from Monday 14th September in which historian and writer of "Elizabeth's Women", Tracy Borman, discusses Elizabeth I and the influence that women, such as her mother, stepmothers and half-sister, had on the course of her life.
It is a wonderful interview and a "must-listen" for Anne Boleyn fans and Elizabeth fans alike. You can download it from iTunes – search for "Woman's Hour" in podcasts – or you can listen to it at the BBC Radio 4 Woman's Hour website – click here to go directly to the programme.
The best part of the interview for me is when Borman is discussing Anne Boleyn and what her feelings must have been while she was in labour, hoping for a boy. Part of Borman's book is read out:
"Just as Anne had hoped, this child would one day bring England to such glory and power that its name would echo down the centuries as one of the greatest monarchs that ever lived. But in the stifling confines of the birthing chamber, on that hot September day, none of this could have been predicted, for the child that Anne had borne was not the hoped for prince – it was a girl."
Borman talks of how Elizabeth's birth was Anne's downfall. After Henry had pursued her for over 6 years, spent time and energy securing a divorce from Catherine of Aragon, and even overturned the religious establishment, Anne fails him by providing him with "yet another useless girl". The irony and tragedy is that Elizabeth was anything but useless and, as Borman says, was "arguably the most successful of the Tudors". How sad that Anne never lived to see Elizabeth rule and that Henry discounted her as useless.
Tracy Borman also dispels the myth that Anne Boleyn meant nothing to Elizabeth or that she was ashamed of her mother. Starkey talks of how Elizabeth never mentioned Anne at all and Weir mentions that Elizabeth only talked of Anne twice, but Borman talks about how we have to consider Elizabeth's actions to really see the high regard and affection she held for her mother:-
A high proportion of the servants in Elizabeth's household were Boleyn relatives.
The locket ring she wore up to her death contained two miniatures – one of herself and one of her mother.
Although it may have been dangerous for Elizabeth to speak out about her mother, who was still considered by many to be "The Great Whore" or a traitor, her actions speak louder than words.
For Elizabeth fans, the radio interview goes on to discuss the influence that other women had on Elizabeth and it is well worth listening to.
Tracy Borman's book, "Elizabeth's Women: The Hidden Story of the Virgin Queen", is due for release in the UK on 24th September – click here to pre-order it from Amazon UK. Amazon UK will post overseas too if you don't want to wait until it is released where you are.
Here's what Amazon says about Borman's book:-
"Elizabeth I was born into a world of women. As a child, she was served by a predominantly female household of servants and governesses, with occasional visits from her mother, Anne Bolyen, and the wives who later took her place.

As Queen, Elizabeth was constantly attended by ladies of the bedchamber and maids of honor who clothed her, bathed her and watched her while she ate. Among her family, it was her female relations who had the greatest influence: from her sister Mary, who distrusted and later imprisoned her, to her cousin, Mary, Queen of Scots, who posed a constant and dangerous threat to her crown for almost thirty years. Despite the importance of women in Elizabeth's life, most historians and biographers have focused on her relationships with men. She has been portrayed as a 'man's woman' who loved to flirt with the many ambitious young men who frequented her court. Yet it is the women in her life who provide the most fascinating insight into the character of this remarkable monarch. With them she was jealous, spiteful and cruel, as well as loyal, kind and protective. She showed her frailties and her insecurities, but also her considerable shrewdness and strength. In short, she was more human than the public persona she presented to the rest of the court. It is her relationships with women that hold the key to the private Elizabeth.

In this original chronicling of the life of one of England's greatest monarchs, historian Tracy Borman explores Elizabeth's relationships with the key women in her life. Beginning with her mother and the governesses and stepmothers who cared for the young princess, including her beloved Kat Astley and the inspirational Katherine Parr, "Elizabeth's Women" sheds new light on her formative years. Elizabeth's turbulent relationships with her rivals are examined: from her sister, 'Bloody' Mary, to the sisters of Lady Jane Grey, and finally the most deadly of all her rivals, Mary, Queen of Scots who would give birth to the man Elizabeth would finally, inevitably have to recognize as heir to her throne. It is a chronicle of the servants, friends and 'flouting wenches' who brought out the best – and the worst – of Elizabeth's carefully cultivated image as Gloriana, the Virgin Queen, in the glittering world of her court."
Tell me what you think of the interview after you've listened to it. I can't wait to read the book!