Anne Boleyn Treasures Uncovered!
Posted By Claire on June 30, 2009
Well, what an exciting few days we've had on the forum here at The Anne Boleyn Files. Just a week ago, Anne Boleyn Files member, Emma, posted a photo of an Anne Boleyn portrait that she had found on a website that was closing down. All she knew about this portrait was that it was a photo of one on display in Ludlow Castle Lodge, Shropshire, England. She didn't know the artist, the date it was painted or anything about this portrait and she hadn't seen it in any books about Anne Boleyn and she wanted to know if any other Anne Boleyn fans knew anything about it.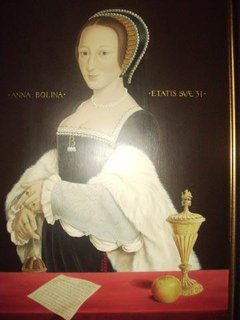 As you can see, it is a beautiful portrait of Anne Boleyn and it has got us discussing it madly on the forum. See Ludlow Portrait of Anne thread.
In my opinion, it is very like the National Portrait Gallery portrait of Anne, if you look at the face and hair, but this time Anne seems to be wearing her B pendant as a brooch and has a collection of objects in front of her – a manuscript (possibly music), an apple and a cup. The painting also clearly says Anne's name and her age, 31.
We've all been picking apart this picture and asking questions and formulating theories:-
Is Anne pregant?
Does she have six fingers in the portrait?
Is the manuscript music? Is it meant to be "Greensleeves"?
Are the items symbolic?
After some digging around, I have learned that it is likely to be a jewelled pomander that Anne is carrying in her right hand, as this was a common thing for Tudor ladies to have attached to their girdles, and that the cup on the table in front of her is the Boleyn Cup complete with the Boleyn crest (see below for more information).
Steve, who makes our gold-plated Anne Boleyn B necklace actually lives in Ludlow and I spoke to him about the portrait and he does not think it is "authentic", i.e. actually posed for by Anne, and I have to agree with him. I'm not an art historian by any stretch of the imagination but to me it is too brightly coloured, has too much symbolism and is too much like the National Portrait Gallery one to be the "real deal" – but hey, I'm not an expert? What do you think?
The Boleyn Cup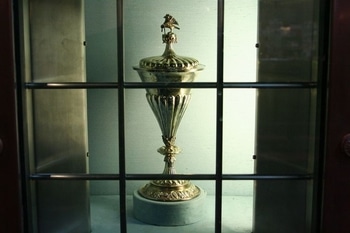 Our friendly jeweller, Steve, also mentioned that the Boleyn Cup is in a church in Cirencester, Gloucestershire, England, so I did some research into that too.
The Boleyn Cup was made for Anne Boleyn in 1535 when she was Queen, just a year before her death, and is made out of silver and gilt. It was apparently passed on to her daughter, Elizabeth I, who gave it as a gift to Richard Master, her physician, and then he eventually gave it to St John the Baptist Parish Church in Cirencester where it still lives today.
Anne Boleyn's crest was a crowned falcon on a tree stump with red and white flowers, so I am assuming that the bird on the top is Anne Boleyn's falcon. It really is an exquisite cup and is one of just a few surviving belongings of the Queen, along with her Books of Hours, a bedhead at Hever Castle, a letter from 1514 and an ornate gold clock given to Anne by Henry VIII (now at St James' Palace, London).
Isn't it sad that we cannot see more of the possessions of this amazing Queen of England?