Anne Boleyn Questions – Did Henry VIII love Anne Boleyn?
Posted By Claire on January 18, 2019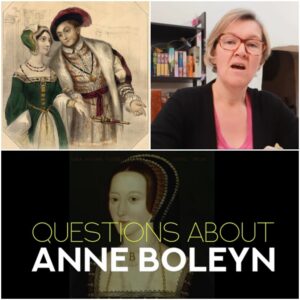 A few months ago, I asked you for questions about Anne Boleyn that you would like me to answer. Thank you for coming up with so many, and also for asking such interesting ones. I knew I could count on you!
I decided that I'd do a series of videos answering a question at a time and I've just recorded this video on the question "Did Henry VIII love Anne Boleyn?". As I explain in the video, it's impossible to answer and only Henry could tell us, but I am sharing with you what I think.
I'd love to hear what you think so please leave comments below sharing your opinion, or you can comment on the video on YouTube. You can also subscribe to the Anne Boleyn Files and Tudor Society YouTube Channel to be notified when these videos and my new "on this day in Tudor history" videos go live by clicking on the red "subscribe" button at https://www.youtube.com/user/AnneBoleynFiles/.
If you don't want the volume turned on, or you are hearing impaired, then you can turn on closed captions by clicking on the "CC" or the settings cog in the right-hand bottom corner of the video. They're not perfect but they will help.
Notes and Sources
Cavendish, George (1827) The Life of Cardinal Wolsey, Second Edition, Harding & Lepard, p. 121.
Starkey, David (2004) Six Wives: The Queens of Henry VIII, Vintage.
Ives, Eric (2005) The Life and Death of Anne Boleyn, Wiley-Blackwell.
"Sandra Vasoli on the love letters of Henry VIII", talk on 6 January 2015, The Tudor Society.
Lindsey, Karen (1996) Divorced, Beheaded, Survived: A Feminist Reinterpretation Of The Wives Of Henry VIII, Da Capo Press.