Anne Boleyn Questions – Just how serious was Henry VIII's 1536 jousting accident?
Posted By Claire on January 24, 2019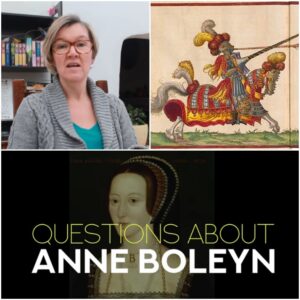 As you know, I've been doing a daily "on this day in Tudor history" video for the Anne Boleyn Files and Tudor Society YouTube Channel and today's video also fits into my "Anne Boleyn Questions" series because it is about Henry VIII's 1536 jousting accident.
I'm often asked about this accident and its impact on Henry VIII's health and behaviour. Was it serious? Did he suffer a brain injury? Did he undergo a personality change after it? Could it have been a factor in Anne Boleyn's fall just four months later?
In this video, I look at what the contemporary sources say about this accident and share my own opinion on the accident's impact.
I'd love to know what you think too, so please do leave comments here or on the video on YouTube.
Notes and Sources
Letters and Papers, Foreign and Domestic, Henry VIII, Volume 10, 427, Dr Ortiz to the Empress
Ibid., 200, Chapuys to Granvelle
Wriothesley, Charles (1875) A chronicle of England during the reigns of the Tudors, from A.D. 1485 to 1559, p. 33
de Carles, Lancelot, "Poème sur la Mort d'Anne Boleyn", in La Grande Bretagne devant L'Opinion Française depuis la Guerre de Cent Ans jusqu'a la Fin du XVI Siècle, Georges Ascoli.