Anne Boleyn: Opportunist Career Woman?
Posted By Claire on August 18, 2009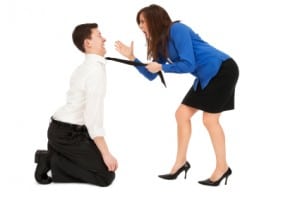 As you know, Anne Boleyn fascinates me and my mission is to learn more about her, debunk the myths that surround her and try to get at the real Anne Boleyn. This is a tricky mission when even historians using the same sources and evidence can't agree on her and when movies, books and even historical places proliferate the lies started by Anne's enemies so long ago.
Labels and Stereotypes
So far in blog posts, I've explored the different opinions that people hold of Anne, none of which really sum up this woman in my humble opinion – witch, martyr, whore, victim and homewrecker.
Today I'm going to consider Anne Boleyn as an "opportunist career woman" – a woman who had high ambitions, who had a plan and used events and opportunities that arose to achieve her ambition, to be Queen. Does this label fit Anne any better than the others? I don't think so, not entirely, but many people do. In my mind, "opportunist career woman" sounds like a woman who will stop at nothing to get her way, rather than a woman who wants success out of life. It sounds like a bad label!
I recently bought a friend of mine Seasons 1 and 2 of "The Tudors", as I knew she'd love it, and I asked her what she thought of Anne so far (she's watched the first seven episodes). Her answer was slightly disappointing – conniving, cunning and horrible were the words I think she used, but she commented that Anne's father, Thomas Boleyn, was far worse. Hmmm… perhaps "The Tudors" is not the best thing for me to give as a present to people!!
The Anne Boleyn of Popular Fiction and TV
This view of Anne as an ambitious, cunning woman who sets out to trap the King, luring him and enticing him with her overt sexuality and dangling her virtue as bait, is one that appears in much popular fiction and on TV.
Even where it is implied that Anne was used by her father and uncle, we still see her as a willing participant who brutally removes people who stand in her way – "Wolsey's crossed me, must get rid of him", "Catherine and Mary are rather tiresome, let's poison them", "More is getting on my nerves, let's encourage the King to get rid of him", "That Pope is stopping me getting my crown, let's use Lutheran teaching against him"… Still worse, we even see her considering, or even committing, incest in an effort to provide the King with a male heir and to secure her position as Queen.
Was Anne really like this?
The Real Anne Boleyn
While I don't think that Anne was cunning and conniving, I do believe that she was ambitious and an opportunist. She stood out from other women at court with her appearance, French style and her education. Unlike many fathers who just made sure that their daughters knew how to sew and manage a household, Thomas Boleyn educated Anne to a high standard. She was sent to the Hapsburg Court in 1513, which Eric Ives describes as "Europe's premier finishing school", were she was taught French, her role in society, dance, deportment and culture, and where she learned to share Margaret of Austria's love of art and music.
Her time in France from around 1515, in the household of Queen Claude, solidified Anne's sophistication and taught her much about life at court. Anne became proficient at singing, dancing and playing the lute, and various other instruments, and may well have met important people like Leonardo da Vinci. I do not believe that Anne became corrupted by her time at the French court, like her sister Mary, but, as maid to the virtuous Queen Claude, was actually not part of what Ives terms as "the blatant sexuality of Francis I's household". Anne used the opportunities that her father gave her to improve herself.
So, the Anne Boleyn who returned to the English Court in around 1521 would have been an intelligent, sophisticated young woman who would have wanted more from life than being the King's mistress or concubine. In fact, I do not believe that Anne was even interested in Henry VIII when he became attracted to her in 1526. Anne had been intent on marrying Henry Percy, a man who she had loved, and had no interest in following in the footsteps of her sister Mary and being a royal mistress – what life was that?
Anne and Henry
So what changed Anne's mind about the King?
Did she suddenly realise what she could achieve? Did she set out to be Queen? Did she use Henry's wild passion for her to get the crown and raise her family's position at court?
Perhaps I'm just an old-fashioned hopeless romantic, but I like to think that Anne fell in love with the King. Here was a man who showed such passion for her, a man who hated writing letters but who bombarded her with love letters, a man who would do anything for her – how intoxicating! When we combine this obvious passion with the fact that Henry was still quite good looking and a man who shared Anne's interests and intelligence, and I think we've got the recipe for love. I may be naive but I believe that Anne was not after the crown alone but that she wanted to be with Henry on her terms, as wife not as mistress. Yes, she was ambitious for herself and would not back down, but I don't think that she was devious or that she was using Henry.
Opportunist Career Woman or not?
Yes, Anne was an opportunist. She was intelligent enough to use opportunities as they arose to better herself. When Henry VIII proposed marriage to her, she did everything in her power to make it happen, including sharing "New Religion" writing with the King to help him see that he could defy the Pope.
Yes, she was a career woman who did not sit back as Queen but who used her role and her influence over Henry to do what she believed was right. She helped Henry plan his palaces, she got her ladies sewing for the poor, she was a patron of the Arts, she gave more in alms to the poor than many of Henry's other wives and the King often discussed policies and politics with her. She took her career as Queen seriously.
I guess my conclusion (after all this rambling!) is that Anne was an opportunist career woman, if the label is used as a positive one, however, these labels are often used in a derogatory way and have a double meaning. As has been said before, successful women are often seen to have risen to the top by using their sexuality, by being brutal to others and "using" other people, and Anne is often thought of in this way. If Anne was around today, I'm sure she'd be a CEO of a top company and she would have got there using her intelligence, taking advantage of opportunities, being ruthless (but not cruel) and being focused, not by using people.
What do you think? As always, I want to know your thoughts! Please comment below. Thanks!
****NEWS ROUNDUP****
A few bits of news this week:-
Today is the release date of Philippa Gregory's "The White Queen", the first novel in her new "Cousins' War" series on the Plantagenets – Click here to read my review.
Launch of "The Tudors" Anne Boleyn headdresses – Ever fancied your very own Anne Boleyn crown, tiara, headdress or headband? Well, we are now offering custom-made Anne Boleyn headdresses – just send us a photo of what you want and we'll give you a personalised quotation. Click here for examples.
Only 9 months to "The Anne Boleyn Experience 2010" – Your chance to meet other Anne Boleyn fans, me (!), Tudor biographer Josephine Wilkinson and other experts, and to actually stay at Anne Boleyn's childhood home, Hever Castle. I'm counting the days because I'm so excited!! Click here to find out more.
The Anne Boleyn Files is growing – As you know, I'm always adding new content and in the past week I've been adding content to Tudor Places, Educational Videos, Bios, and Poetry about Anne Boleyn (thanks, Esther!). Let me know if there's anything you'd like to see on the site.
"The Tudors" Season 3 – Nearly forgot! Good news for Brits! Season 3 of "The Tudors" starts this Friday (21st) at 9pm on BBC2 – yay!