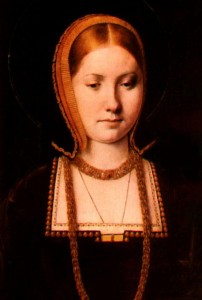 Over my next few blog posts, I'm going to consider Anne Boleyn's role in Henry VIII's ill treatment of Catherine of Aragon, his daughter Mary, Cardinal Wolsey and Sir Thomas More – thanks to Matterhorn for inspiring me with his comment on my last post!
People of the time, Anne's enemies, those writing about Anne during the reign of Mary I, some historians and even "The Tudors" show imply that Anne Boleyn was very much responsible for the ill treatment of these Tudor characters, and some even outwardly accuse her of poisoning Catherine of Aragon! Now, whilst most of us agree that Anne Boleyn was no saint (well, according to John Foxe she was a saint!), was she really guilty of the awful treatment that these people had at the hands of the King?
The first character that I'm going to look at is Catherine of Aragon, but before I consider Anne's supposed ill treatment of her I think we first need to look at Catherine's feelings and behaviour towards the King and Anne Boleyn.
Catherine of Aragon
You can't help but feel sorry for this woman who was Henry's wife for nearly 24 years and who never stopped believing that she was Henry's one and only true wife.
Catherine of Aragon was a dignified and religious woman, who turned a blind eye to her husband's constant infidelity and coped with pregnancy after pregnancy, miscarriages and still births. She was a traditional Queen who accepted her "lot in life" and her role as Queen of England. She knew that a king was expected to have mistresses and she also knew that her job was to ignore it and to carry on trying to provide the longed for male heir. How heartbroken she must have been when it became obvious that this was not going to happen, but how this heartbreak must have been magnified when she realised that her own lady-in-waiting, Anne Boleyn, was more than a mistress to the King! Catherine could never have anticipated this turn of events.
So how did Catherine treat Anne Boleyn?
There is no definitive answer to this question. George Cavendish, in his biography of Wolsey (cited in Eric Ives' biography), would have us believe that Katherine's behaviour towards her lady-in -waiting was impeccable and that she:
"shewed([neither] to Mistress Anne, ne to the king) any spark or kind of grudge or displeasure…dissembled the same, having Mistress Anne in more estimation for the king's sake".
Wow, a true saint, but perhaps she was convinced at this stage that Anne was just another in a long line of royal mistresses and that she was no threat to a Queen with real royal blood. Other mistresses had come and gone, even ones like Elizabeth Blount who had actually provided the king with a son, so why would Anne be any different?
According to George Wyatt (cited in Eric Ives), Catherine actually tried to help Anne to resist Henry's advances and Anne remained loyal to her queen. Wyatt also talks of card games that Catherine instigated with Anne, in an apparent attempt to make Anne show her deformed finger (if you believe she had one!), and Catherine's famous remark to Anne:
"My lady Anne, you have good hap to stop at a king, but you are not like others, you will have all or none".
It is said that when of her ladies started talking ill of Anne Boleyn, Catherine told her off saying:
"Pray for her because the time would come when you shall pity and lament her case."
It seems that Catherine only realised the true threat that Anne was to her when she was made aware of Henry's secret plans for an annulment. In a letter to her nephew, the Holy Roman Emperor Charles, she begs Charles to plead her case to Pope Clement VII so that her marriage to Henry would be upheld and calls Anne Boleyn "the great scandal of Christendom". This is the first time we hear of Catherine saying a harsh word of Anne.
Catherine of Aragon was obviously distressed by the turn of events and showed dignity and strength of character in the way that she handled things. She was adamnant that she was Henry's true wife and that her marriage to Henry's brother, Prince Arthur, had never been consummated and that Leviticus 20 v 21 therefore did not apply. She fought tooth and nail for her marriage and the legitimacy of her daughter, seemingly without ever slandering Henry's new love.
Catherine and the Legatine Court
In May 1529, a legatine court was convened at Blackfriars in London to determine whether or not Henry VIII's marriage to Catherine of Aragon was lawful. This was Catherine's finest hour, in my opinion. On the 18th June, Catherine was called and instead of answering she dramatically approached the King, falling on her knees before him and making the following impassioned speech:
"Sir, I beseech you, for all the loves that hath been between us, and for the love of God, let me have justice and right. Take of me some pity and compassion, for I am a poor woman and stranger born out of your dominion. I have here no assured friend, and much less indifferent counsel. I flee to you as the head of justice within this realm.

Alas, Sir, where have I offended you? Or what occasion have you of displeasure, that you intend to put me from you? I take God and all the world to witness that I have been to you a true, humble and obedient wife, ever conformable to your will and pleasure. I have been pleased and contented with all the things wherein you had delight and dalliance. I never grudged a word or countenance, or showed a spark of discontent. I loved all those whom ye loved only for your sake, whether I had cause or no, and whether they were my friends or enemies. This twenty years and more I have been your true wife, and by me ye have had divers children, though it hath pleased God to call them out of this world, which hath been no fault in me. And when ye had me at the first, I take God to be my judge, I was true maid, without touch of man; and whether it be true or no, you put it to your conscience.

[ A pause. Then:] If there be any just cause by the law that you can allege against me, either of dishonesty or any other impediment, to put me from you, I am well content to depart, to my shame and dishonour. If there be none, I must lowly beseech you, let me remain in my former estate and receive justice at your princely hands.

The King your father was accounted in his day as a second Solomon for wisdom, and my father Ferdinand and was esteemed one of the wisest kinds that had ever reigned in Spain. It is not about them as was thought fit by their high discretion. Also, there were in those days as wise, as learned man, as there are at this present time in both realms, who thought then the marriage between you and me good and lawful.

It is a wonder to hear what new inventions are invented against me, who never intended but honesty, that cause me to stand to the order and judgement of this new court, wherein you may do me much wrong, if you intend any cruelty. For ye may condemn me for lack of sufficient answer, having no indifferent counsel. Ye must understand that they cannot be indifferent counsellors which be your subjects, and taken out of your Council beforehand, and dare not, for your displeasure, disobey your will and intent.

Therefore, most humbly do I require you, in the way of charity and for the love of God, to spare me the extremity of this court, until I may be advertised what way and order my friends in Spain will advise me to take. And if ye will not extend to me so much favour, your pleasure then be fulfilled, and to God I commit my cause."

(Source: Alison Weir's "The Six Wives of Henry VIII".)
After her speech, Catherine rose and left the hall.
I know I for one would have used this opportunity to lash out at the King, to publicise his adultery and his intentions to marry Anne Boleyn, but, instead, Catherine showed her dignity and good breeding and acted the true Queen and wife by only speaking out against what Henry was basing his annulment on, the fact that there marriage was not valid (in his eyes). Never did she mention Anne and the betrayal she must have felt from both her husband and her lady-in-waiting.
A Marriage Over
Even after the marriage was annulled and Henry eventually married a pregnant Anne in 1533, we have no record of Catherine speaking ill of Anne. We can only imagine how Catherine must have felt when she was stripped of the title "Queen" and given the title "Princess Dowager of Wales", expelled from court and commanded never to see her beloved daughter.
How awful her last three years of life must have been living a lonely life far from court, with a diminishing number of servants and in a state of poverty, when compared to her previous life. Catherine became increasingly more pious, spending ever increasing time in prayer and she died just three years after Henry's marriage to Anne Boleyn. Some still believe that she died of a broken heart, although the official cause of death is thought to have been cancer (or a heart condition), and it is evident from Catherine's final letter to the King, written just before her death, that she never stopped loving him and that she still considered herself as his wife:-
"My most dear lord, king and husband,
The hour of my death now drawing on, the tender love I owe you forceth me, my case being such, to commend myself to you, and to put you in remembrance with a few words of the health and safeguard of your soul which you ought to prefer before all worldly matters, and before the care and pampering of your body, for the which you have cast me into many calamities and yourself into many troubles.

For my part, I pardon you everything, and I wish to devoutly pray God that He will pardon you also. For the rest, I commend unto you our daughter Mary, beseeching you to be a good father unto her, as I have heretofore desired. I entreat you also, on behalf of my maids, to give them marriage portions, which is not much, they being but three. For all my other servants I solicit the wages due them, and a year more, lest they be unprovided for. Lastly, I make this vow, that mine eyes desire you above all things.
Katharine the Quene."

(Source: englishhistory.net)
Anne is not mentioned but Catherine obviously feels that the King has sinned against God and is worried about his soul.
What do you think Catherine felt about Anne? Do you think that she felt, as Chapuys did, that Anne was Henry's "concubine" and whore? Do you think that she hated Anne and blamed her for the annulment and Henry's cruel treatment of her and her daughter? Or do you think that Catherine felt that Anne too was a victim? Did Catherine suspect that Anne would not last?
Pleas let me know!