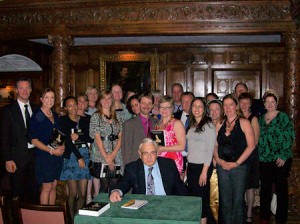 Professor Eric Ives has just published his review of G W Bernard's "Anne Boleyn: Fatal Attractions" in the October edition of "The Journal of Ecclesiastical History" and it's a wonderful read and well worth downloading from the Cambridge Journals website.
As you may know, Bernard and Ives have never seen eye to eye on Anne Boleyn, her religion and her fall, and spent the 1990s arguing, albeit quite politely, in historical journals, and Bernard seems to have resurrected this argument with "Fatal Attractions which Ives sees as "an attempt to demolish the picture of Anne which I and others drew". Ives is quite scathing in his review, remarking that "Fatal Attractions" does not really offer anything new, that "it does show signs of age" and that it is "determinedly negative and hard for a reader unfamiliar with the views being attacked", i.e. the views of Ives and David Starkey.
Ives goes on to argue against Bernard's views on Anne Boleyn's faith, explaining the meaning of the term "evangelical" when used to describe Anne and those with reformist views in the 1530s, saying that "historians use the term 'evangelical' simply to describe an individual who is sympathetic to an agenda of real spiritual experience, the priority of faith, access to the Bible, and reform of abuses and superstition". Ives goes on to say that "this was the religious atmosphere in the court of Queen Claude of France" when Anne was serving her and that Anne Boleyn favoured French religious literature, such as the work of Jacques Lefèvre d'Étaples. Ives believes that "Anne Boleyn's religion belongs in the context of early French reform" and argues against Bernard's theory that Anne had no influence in regards to religion and the Reformation, and that it was all down to Henry VIII, commenting that "it is hard to see how Anne Boleyn, or for that matter Cranmer and Cromwell could occupy the positions that they did without having some influence."
Ives also discusses Bernard's rejection of Cromwell's role in Anne Boleyn's downfall, stating that Cromwell himself admitted to engineering it when he spoke to Eustace Chapuys, the Imperial ambassador. Ives explains John Skips's sermon and how Bernard has underestimated "the key passage in the sermon which attacked Cromwell personally" on behalf of Anne Boleyn. Ives writes that this attack on him and his disagreement with Anne "left the minister facing the possibility of Anne becoming 'a contynuall serpentyn ennemeye about the kyng'." Cromwell had, after all, seen what had happened to Cardinal Wolsey!
Finally, Ives handles Bernard's argument that the allegations against Anne in May 1536 could actually be "close to the truth". Ives writes that "Bernard's method is to take evidence which he accepts appears to be in Anne's favour, and construct alternative interpretations one after another". Ives criticises Bernard's frequent use of "let us imagine" (7 times in one paragraph) and "let us for the sake of argument, suppose…", likening this to the words of Donald Rumsfeld, who once said "Reports that say something hasn't happened are always interesting to me because as we know, there are… known unknowns; that is to say we know there are some things we do not know. But there are also unknown unknowns – the ones we don't know we don't know."!
Regarding Bernard's reliance on the poem of Lancelot de Carles as evidence that Anne committed adultery, Ives points out that de Carles's account is bound to be "congruent with what Cromwell circulated on the diplomatic network, seeing as de Carles worked for the French ambassador. Ives also points out that it is hard to believe the allegations against Anne when we consider that no woman was accused of helping her with her affairs, even though a queen would have needed help to escape detection, and that de Carles's material is not corroborated. Ives concludes his excellent review with the following words:-
"Science is said to proceed from obituary to obituary. So does history, but "Anne Boleyn: Fatal Attractions" will not, as George Bernard intends, bury the reformist and innocent Anne Boleyn."
Bravo!
Source