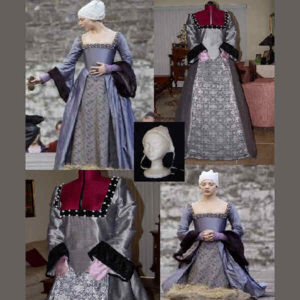 Today we are launching the second dress in our exclusive The Tudors dress range – the Anne Boleyn Execution Dress!
This dress came second in our Anne Boleyn Dress poll a few weeks ago and is a handmade replica of the one Natalie Dormer wore as Anne Boleyn in Season Two of The Tudors, in the scene where Anne is executed by the French Swordsman.
I think you'll agree that Kris has done a fabulous job in designing it and finding the right material, and she's even made a matching cloth cap so you can look exactly like Natalie Dormer!
Like the Pembroke Dress we launched a few weeks ago, this dress will be custom-made to your own measurements and this dress features:-
Elegant Steel Gray Dupioni Satin
Pretty Satin Brocade
Velvet Trimmed sleeves
Lavender satin undersleeves
Hand Pearled trim round around the neck and shoulders – 10 mm white Czech Glass Pearls
Boning throughout the bodice to give you that Tudor look
An elastic waist with toggle so you can let it out if you just happen to have a meal fit for a Queen
Silver Toned Corset Grade Grommets
Back lacing
White Cotton Execution Cap – Can be tied at the back or front or can be worn without tying if preferred
The bottom of the skirt has been serged and is ready for you to hem when you decide what shoes you want to wear with the dress. You can order it now at our Anne Boleyn Dresses page.
See slideshow below for front and back views:-
[slideshow id=201 w=450 h=325]
Matching Items
Daniela has made replicas of the jewellery Natalie Dormer wears along with this dress in the execution scene and you can buy it as the Pearl Tassel Set. It consists of the Anne Boleyn Pearl Tassel Necklace and the Anne Boleyn White Pearl Drop Earrings.