Posted By Claire on November 27, 2016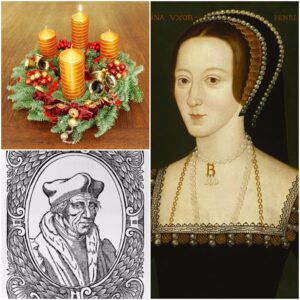 The four weeks of Advent (meaning "coming"), the season of waiting and preparation for the birth of the Messiah, began on Advent Sunday, the fourth Sunday before the Nativity. It was a time of fasting, i.e. abstaining from meat.
Today, 27th November is Advent Sunday and to commemorate this day I wanted to share with you something that is linked to both this special day in the church calendar and to Anne Boleyn. As you will probably know, Anne Boleyn owned an illuminated manuscript of French Reformer Jacques Lefèvre d'Étaples' Epistres et Evangiles pour les cinquante et deux semaines de l'an, or "Epistles and Gospels for the 52 Weeks of the Year". It was given to her by her brother, George Boleyn, and would have been very precious to her. As the title suggests, it had readings for each week of the year. Click here to read what Anne Boleyn would have read on Advent Sunday.