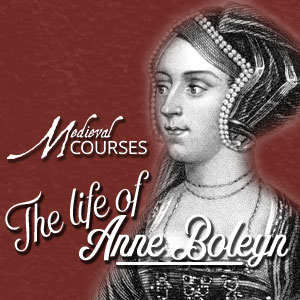 I know I've been a bit quiet recently but what with the advent calendar, three book projects and writing an online history course things have been rather manic – phew!
Anyway, I just wanted to let you know that the 15-unit online course I have written and recorded for MedievalCourses.com is open for pre-orders right now. It is called "The Life of Anne Boleyn" and it launches properly on 30th January 2017, but you can save $40 by pre-ordering it at $35 (usual price $75). All participants receive an unabridged audio version of my book The Fall of Anne Boleyn: A Countdown (RRP $19.95). Gift certificates are also available at the pre-order price if you want to buy the course as a Christmas present.
Click here to go to the course page now. The discount code is ABPRE.
Here is the course blurb:
Anne Boleyn is the most popular and also the most divisive of Henry VIII's six wives. Some view her as an ambitious, social climber and home-wrecker who played a game and ultimately lost, others see her as a tragic victim of an egotistical tyrant obsessed with having a son, and still others see her as a queen whose views and ideals led to her making enemies who moved against her and brought her down in a brutal manner.
Who was the real Anne Boleyn?
It's impossible to know for sure, but this 15-unit course (plus introduction) will lead you through her life step-by-step, from her family background and beginnings to her tragic death in 1536 and her legacy. Each part of her life will be fleshed out in detail in video lessons by Claire Ridgway, founder of The Anne Boleyn Files website and author of The Fall of Anne Boleyn: A Countdown, The Anne Boleyn Collection and co-author of George Boleyn: Tudor Poet, Courtier and Diplomat, and several other Tudor history books. Claire also includes a unit on the myths surrounding this executed queen and one on how to research Anne Boleyn yourself using primary and secondary sources.
Course Units:
Introduction
Anne Boleyn's background and roots
Birth and Early Life
Anne Boleyn's family
Early education and Margaret of Austria's court
Anne Boleyn's time in France
Return to England
Debut at the English court and suitors
Henry VIII's pursuit of Anne Boleyn and the Great Matter
1533 – Anne Boleyn's coronation and the birth of Elizabeth I
Anne Boleyn Queen Consort
1536: The Fall of Anne Boleyn
Anne Boleyn's execution and the aftermath
The myths surrounding Anne Boleyn
The legacy of Anne Boleyn
Researching Anne Boleyn and the reign of Henry VIII
The course includes 16 video lessons (streaming video plus downloadable audio mp3 files), downloadable PDF transcripts of each lesson, end of unit quizzes, resources – Where to find primary sources on Anne Boleyn and Henry VIII, a bibliography and further reading list, and an end of course certificate.
As with all of MedievalCourses.com's history courses, the course is completely online so is open internationally. It has no set start or finish date, so you can complete the lessons in your own time and at your own pace. Participants have lifetime access to the course.
Click here to go to the course page now. The discount code is ABPRE.