9 October 1514 – The Wedding of Louis XII of France and Mary Tudor
Posted By Claire on October 9, 2012
On 9th October 1514, the eighteen year-old Mary Tudor, sister of Henry VIII, married the fifty-two year-old King Louis XII of France at Abbeville.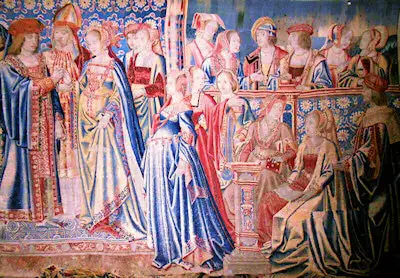 You can read the details of the wedding and Mary's appearance in my post Mary Tudor Marries Louis XII of France but I wanted to share with you Tim's photo of the tapestry at Hever Castle which depicts this event.
Some believe that Anne Boleyn is one of the women depicted in the tapestry but it is not known what date Anne arrived in France. Anne had been serving Margaret of Austria at her court in Mechelen and Thomas Boleyn had only written to Margaret on 14th August 1514, asking her to release Anne and send her back to England with a chaperone sent by him. With time so short, Anne may have travelled directly from Mechelen and may well have missed the wedding, arriving only in time for Mary's coronation on 9th November. We do not know. However, Mary Boleyn may be in the tapestry as it is thought that she travelled with Mary Tudor from England as one of her ladies.
See The Early Life of Anne Boleyn Part Three – Anne Boleyn Goes to France for more information on Anne Boleyn's time in France.