7 March 1530 – The Pope gets cross with Henry VIII
Posted By Claire on March 7, 2016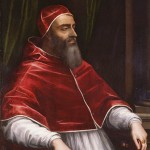 On 7th March 1530, eight months after the Legatine Court was adjourned having failed to come to any conclusion regarding Henry VIII's case for an annulment of his marriage to Catherine of Aragon, Pope Clement VII wrote to Henry VII forbidding him from marrying again and threatening him with excommunication if the king disobeyed.
Click here to read the text of the papal bull that Pope Clement VII sent and click here to read more about the legatine court.
Also on this day in history…
1556 – One of the days on which the Great Comet, or the Comet of Charles V, was seen and recorded by Paul Fabricius, mathematician and physician at Charles V's court. Click here to read more.
1574 – Baptism of John Wilbye, composer and musician, at Diss in Norfolk. Click here to hear some of his beautiful madrigals being performed.