7 January 1536 – The Death of Catherine of Aragon, Henry VIII's first wife
Posted By Claire on January 7, 2015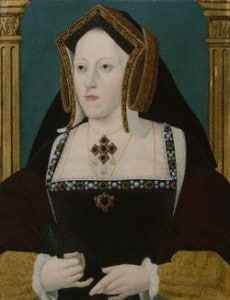 At 2pm on 7th January 1536, fifty year-old Catherine of Aragon died at Kimbolton Castle, Cambridgeshire, where she had resided since April 1534.
Catherine had been suffering with ill health for a number of months but her condition took a turn for the worse at Christmas 1535. Catherine suffered awful stomach pains, sickness and was unable to eat, drink or sleep properly, and by 29th December, it was thought that her life was in danger. The New Year saw an improvement in her condition, with her being able to hold down food and drink, and chat and laugh with visitors. However, on the night of the 6th January, Catherine became fidgety and in the early hours of the 7th she asked to take communion. Jorge de Athequa, Catherine's confessor and the Bishop of Llandaff, administered communion and listened to her confession. Catherine then spent her last hours in prayer.
You can read more about her final days in my article The Death of Catherine of Aragon.
In her will, Catherine asked to be buried in a Chapel of her beloved order, The Observant Friars, but the recent dissolution of the monasteries meant that there were none left. She was laid to rest on the 29th January 1536 at Peterborough Abbey, which still stands today and is now known as Peterborough Cathedral. She was buried as the Dowager Princess of Wales but her grave is now marked "Katharine Queen of England". Peterborough Cathedral commemorate her death and burial, and celebrate her life on an annual basis with a special programme of events known as the Katharine of Aragon Festival. Here is the programme for this year's festival:
Friday 30th January – 10.30am Service of Commemoration at Peterborough Cathedral, followed by a Tudor history day for schools.
Friday 30th January – 2pm Guided Tour of the Cathedral.
Friday 30th January – 7.30pm talk by Alison Weir: The Exile of Katharine of Aragon
Saturday 31st January – 10.00am–5.00pm: At home with the Tudors, at Peterborough Museum
Saturday 31st January – 2pm Guided Tour of the Cathedral.
Saturday 31st January – 7.30pm Monteverdi's Vespers of 1610, sung by The Sixteen at Peterborough Cathedral.
Sunday 1st February – 10.00am–5.00pm: At home with the Tudors, at Peterborough Museum
Sunday 1st February – 2pm Tudor Peterborough Walk, starts at Peterborough Museum.
See http://www.peterborough-cathedral.org.uk/katharine-of-aragon-festival-2015.html for more details and to buy tickets.
Tudor Society members can read an article I've just published on the Tudor Society website "Catherine of Aragon's Black Heart and Poison: The Primary Sources" – see www.tudorsociety.com/news/.