5 May 1536 – 8 prisoners in the Tower now – The Fall of Anne Boleyn
Posted By Claire on May 5, 2019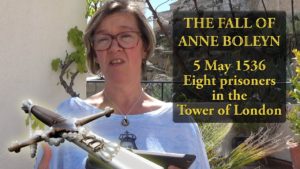 By 5th May 1536, there were eight prisoners in the Tower of London: Queen Anne Boleyn and seven men implicated in her fall. Who were they?
Another man had also been called to London for questioning.
What was going on?
I explain all in today's video.
I'm doing these "Fall of Anne Boleyn" videos daily until 19th May and I started on 24th April. You can catch up with them on the Anne Boleyn Files and Tudor Society Youtube Channel.
You can find out more about my book The Fall of Anne Boleyn: A Countdown at http://getbook.at/fallanneboleyn.
If you prefer reading articles to watching videos, you can click here to read my article on these arrests.