4 October – A recantation and a rebellion
Posted By Claire on October 4, 2016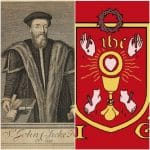 On this day in 1536, there was trouble in Horncastle, Lincolnshire. This was part of what we know as the Lincolnshire Rising which, in turn, was part of the Pilgrimage of Grace rebellion.
On this day in 1556, Sir John Cheke, one-time tutor to Edward VI, Secretary of State for Lady Jane Grey and the first Regius Professor of Greek at Cambridge University, made a public recantation of his Protestant faith in front of Mary I.
Cheke had been imprisoned in the Tower of London by Mary I for his part in Lady Jane Grey's 'usurpation' of the throne in July 1553 but was released just over a year later. He then travelled to the continent but was arrested between Brussels and Antwerp in Spring 1556, along with Sir Peter Carew, and taken back to England, where he was once again imprisoned in the Tower.