Posted By Claire on October 11, 2016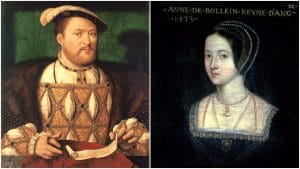 On this day in history, 11 October 1532, at just before dawn, Henry VIII and Anne Boleyn, Marquis of Pembroke, set sail from Dover in the King's ship The Swallow. Their destination was Calais and the purpose of their trip was to gain King Francis I of France's support for their relationship and their quest for the annulment of Henry VIII's marriage to Catherine of Aragon.
Last year, I published a post giving a timeline of the couple's visit to Calais with links to articles about the various events – click here to view that now.
Also on this day in history…
1521 – The title of Fidei Defensor, "Defender of the Faith", was conferred by Pope Leo X on Henry VIII.
1542 – Sir Thomas Wyatt the Elder, poet and diplomat, died at Sherborne in Dorset. Click here to read more about him.
1549 – Arrest of Edward Seymour, the Duke of Somerset, Lord Protector of the Realm and Governor of the King's Person. Click here to read more.