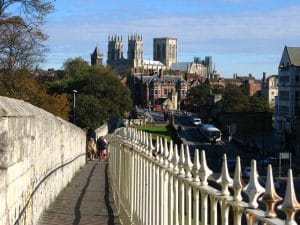 By 14th October the uprising in the north had turned into a proper rebellion, one that came to be known as the Pilgrimage of Grace.
On 13th October, Lord Darcy had reported to Henry VIII that "most of the East Riding […] Marshland, Snathe, and others of the West Riding […] Dent, Sedbar, Richmondshire, Middleham, Wensladale, and Mashamshire" were "up" in rebellion "with the most part of the North Riding, and in effect all the commons of Yorkshire", with the City of York favouring the rebels too. He went on to say that "the Lancashire commons are of the same mind as the others". Although Richard Cromwell reported to Thomas Cromwell that he had heard that "the traitors about Lincoln are dispersed", the trouble had spread to Yorkshire and Lancashire.
On 14th October William Haryngton, Mayor of York, and Sir George Lawson, wrote to the King asking for aid because "The commons of Beverley, Cottyngham, Holdenshire, Marcheland, Richmondshire, &c., some willingly and many by coercion, have rebelliously assembled to take York" and the city was "ill provided for defence".
The rebellion was finally squashed at the end of October 1536, but reignited in Bigod's Rebellion in January 1537, which was quickly put down. You can read more about the events of the rebellion in my Pilgrimage of Grace timeline – click here.
Notes and Sources
Photo: York City Walls © Copyright Lisa Jarvis and licensed for reuse under this Creative Commons Licence. geograph.org.uk/photo/589000.
'Henry VIII: October 1536, 11-15', in Letters and Papers, Foreign and Domestic, Henry VIII, Volume 11, July-December 1536, ed. James Gairdner (London, 1888), pp. 257-284, 692. British History Online http://www.british-history.ac.uk/letters-papers-hen8/vol11/pp257-284 [accessed 14 October 2016]
Ibid., 704