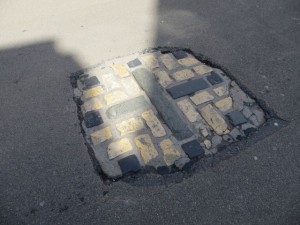 On this day in history, 16th October 1555, two of the Oxford martyrs: Hugh Latimer, Bishop of Worcester, and Nicholas Ridley, Bishop of London, were burnt at the stake at Oxford for heresy.
Their friend and fellow Oxford martyr, Archbishop Thomas Cranmer, was also burnt at the stake in Oxford, but on 21st March 1556.
Also on this day in history, 16th October 1532, the Duke of Norfolk, Earl of Derby and a group of gentleman met with "the great mayster of Fraunce", Anne, duc de Montmorency, and his men at the English Pale, six miles outside of Calais. This meeting was to plan where Henry VIII would meet Francis I. This is one of the events on the timeline I created for Anne Boleyn and Henry VIII's visit to Calais in 1532 – click here.
Photo: Cross marking the execution site in Broad Street, Oxford, © Copyright Bill Nicholls and licensed for reuse under this Creative Commons Licence. Geograph.org.uk.