4 May 1536 – Two more men in the Tower of London and one man receives a message of comfort
Posted By Claire on May 4, 2018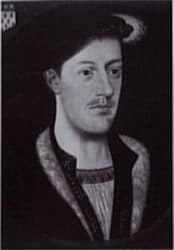 By 4th May 1536, there were four new prisoners in the Tower of London implicated in the same plot against the king: Queen Anne Boleyn; her brother, George Boleyn, Lord Rochford; Sir Henry Norris, Henry VIII's groom of the stool; and Mark Smeaton, a court musician. On 4th May, two more were added to their number: Sir Francis Weston, a gentleman of the king's privy chamber and a favourite of the king, and William Brereton, a prominent man in Cheshire and North Wales.
You can read more about Sir Francis Weston and William Brereton in my article from 2015 – click here.
Also on this day in 1536, George Boleyn, Lord Rochford, received a message of comfort from his wife, Jane – click here to read more.
Picture: Unknown man thought to be Sir Francis Weston.