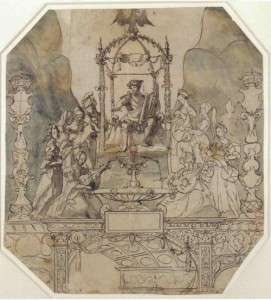 On 31st May 1533, a pregnant Queen Anne Boleyn processed through the streets of London from the Tower of London to Westminster Hall in readiness for her coronation the following day.
You can see maps showing the procession route and stops, and a detailed run-down of the procession, pageants and entertainment in an article I wrote a couple of years ago – click here. It's one of those days I'd love to time travel back to!
Also on this day in history…
1443 – Lady Margaret Beaufort, Countess of Richmond and Derby, and matriarch of the Tudor dynasty, was born at Bletsoe Castle in Bedfordshire. See our Margaret Beaufort bio page for more on Margaret.
1529 – The opening of the Legatine Court, he formal trial to investigate Henry VIII's case for an annulment of his marriage to Catherine of Aragon, at Blackfriars. Click here to read more about it.