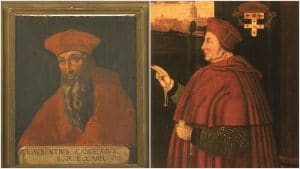 On this day in history, 31st May 1529, formal proceedings began into Henry VIII's case for an annulment at a special legatine court presided over by Cardinal Thomas Wolsey and Cardinal Lorenzo Campeggio at Blackfriars in London.
The case came to nothing when it was adjourned in July 1529 for a summer recess, never to meet again. Henry VIII's marriage to Catherine of Aragon was not formally annulled until May 1533.
You can read more about this in my article Cardinal Campeggio and the Legatine Court.
Today is also the anniversary of the birth of Lady Margaret Beaufort, mother of King Henry VII, in 1443. Click here to read more about her.