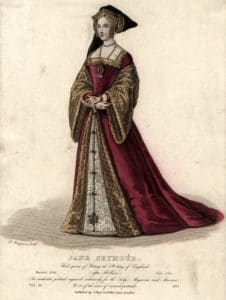 On Friday 2nd June 1536, according to Sir John Russell, Queen Jane Seymour made her first public appearance since her marriage to King Henry VIII on 30th May. She appeared at Greenwich Palace. Here is an extract from Sir John Russell's letter to Lord Lisle, Lord Deputy of Calais:
"On Friday last [2nd June] the Queen sat abroad as Queen, and was served by her own servants, who were sworn that same day. The King came in his great boat to Greenwich that day with his privy chamber, and the Queen and the ladies in the great barge. I assure you she is as gentle a lady as ever I knew, and as fair a Queen as any in Christendom. 'The King hath come out of hell into heaven for the gentleness in this and the cursedness and the unhappiness in the other.' You would do well to write to the King again that you rejoice he is so well matched with so gracious a woman as is reported. This will please the King."1
Chronicler Edward Hall simply states that Jane was "openlye shewed as Quene" at Whitsuntide, Whitsun being 4th June that year.2 Charles Wriothesley, chronicler and Windsor Herald, states that Jane was officially proclaimed queen at Greenwich on 4th June 1536.3
I wonder what the common people thought of the events of May 1536, with one queen being executed on 19th May and another queen being shown in public on 2nd June.
Notes and Sources
Letters and Papers, Foreign and Domestic, Henry VIII, Volume X, 1047.
Hall, Edward (d. 1547) Hall's chronicle : containing the history of England, during the reign of Henry the Fourth, and the succeeding monarchs, to the end of the reign of Henry the Eighth, in which are particularly described the manners and customs of those periods. Carefully collated with the editions of 1548 and 1550, this edition published in 1809, J Johnson, p. 819.
Wriothesley, Charles (1875) A chronicle of England during the reigns of the Tudors, from A.D. 1485 to 1559 Volume 1, Camden Society, p. 43-44.