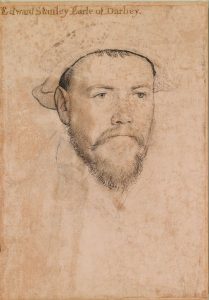 On the night of 30th/31st May 1533, as part of the celebrations for Queen Anne Boleyn's coronation, which was scheduled for 1st June, eighteen men were created Knights of the Bath.
Chronicler Edward Hall records:
"On Friday at dinner served the king all such as were appointed by his highness to be knights of the bath, which after dinner were brought to their chambers, and that night were bathed and shriven according to the old usage of England, and the next day in the morning the king dubbed them according to the ceremonies thereto belonging whose names ensueth.
The Marquess of Dorset. Sir William Windsor.
The Earl of Derby. Sir Frances Weston.
The Lord Clifford. Sir Thomas Arrundell.
The Lord Fitzwater. Sir John Huddelston.
The Lord Hastings. Sir Thomas Poynings.
The Lord Mountegle. Sir Henry Savile.
Sir John Mordaunt. Sir George Fitzwilliam.
The Lord Vaux. Sir John Tyndall.
Sir Henry Parker. Sir Thomas Germayne."
Click here to read more about this traditional coronation ceremony and what it involved. You can view a timeline of the events in 1533 which led up to Anne's coronation at The Events of 1533 – From Queen-in-waiting to Queen Consort.
Also on this day in history, 30th May 1536, King Henry VIII married Jane Seymour. Click here to read more about the wedding and click here to read about Jane Seymour.
Notes and Sources
Image: Edward Stanley, 3rd Earl of Derby, by Hans Holbein the Younger.
Hall, Edward (1809) Hall's chronicle: containing the history of England, during the reign of Henry the Fourth, and the succeeding monarchs, to the end of the reign of Henry the Eighth, in which are particularly described the manners and customs of those periods. Carefully collated with the editions of 1548 and 1550, J. Johnson, London, p800.