29 November 1530 – Cardinal Wolsey cheats the axeman
Posted By Claire on November 29, 2017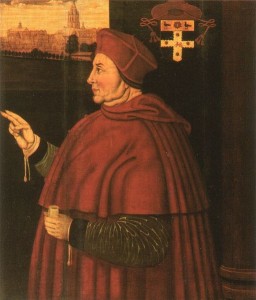 On this day in history, 29th November 1530, at around 8 o'clock in the morning, Cardinal Thomas Wolsey died at the Abbey of St Mary de Pratis, Leicester.
Wolsey had been arrested at his home, Cawood Castle, at the beginning of the month and was on his way to London to answer charges of treason. He had been taken ill with dysentery on the journey, causing his escort to stop at Sheffield Park, home of the Earl of Shrewsbury, from 8th to 24th November before continuing on to Hardwick Hall, Nottingham and then Leicester. By the time the group had arrived at Leicester, Wolsey's health had taken a turn for the worse and Wolsey is said to have told the abbot, "Father abbott I ame come hether to leave my bones among you."
Historian J.J. Scarisbrick writes of how Wolsey "cheated his master of the final reckoning" by dying naturally before he could be tried for treason, and presumably found guilty and executed.
Click here to read more about Cardinal Wolsey's death and click here to read more about his life and career.