21 December 1549 – The death of Marguerite of Navarre
Posted By Claire on December 21, 2017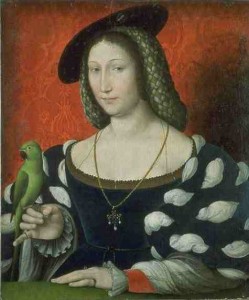 On this day in history, 21st December 1549, Marguerite of Navarre died in Odos in south-western France. She was fifty-seven.
Marguerite, who was also known as Margaret of Navarre, Marguerite of Angoulême and Marguerite de France, was the sister of Francis I, King of France, and the daughter of Charles de Valois-Orléans, Comte d'Angoulême, and Louise of Savoy. She was a writer and poet, and her most famous works are the Heptameron, which is a collection of her short stories, and the religious work miroir de l'âme pécheresse (Mirror of the Sinful Soul), which was translated by the future Elizabeth I, when she was a teenager, as a gift for her stepmother Catherine Parr.
You can read more about Marguerite, and also her links to Anne Boleyn, in the following articles:
Today is also the anniversary of the death of Jasper Tudor in 1495 – click here to read more.