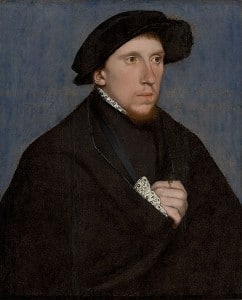 On this day in history, 13th January 1547, Henry Howard, Earl of Surrey, poet and soldier, and son of Thomas Howard, 3rd Duke of Norfolk, was tried for treason at a common inquest at Guildhall, London.
Charles Wriothesley records the trial in his chronicle:
"The 13th daie of Januarie was arraigned at the Guildhall Henrie Haward, knight of the noble Order of the Garter, Earle of Surrey, and sonne and heire of Thomas Duke of Norfolke, and that daie was condemned of highe treason, my lord major sitting as cheife, my Lord Chauncelor, my great master, the Erle of Hertford, the Erle of Arundell, the Erle of Essex, my Lord Admirall, with all the judges, Sir Anthonie Browne, and Mr. Pagett, the Kinges Secretarie, being Commissioners, my Lord Chauncelor geuving him his judgmente, and for his jurie that were charged for him were knightes and squires of Norfolke, Sir William Person, knight, being foreman of the jurie; he had such pleading for himself that he kept the Commissioners from nyne of the clocke in the forenoune till five of the clocke at night or he had judgment."
Thomas Wriothesley, Lord Chancellor, read out the indictment which had been agreed by a jury at Norwich Castle on 7th January. According to this indictment: "one Henry Howard, late of Kennynggale, K.G., otherwise called Henry earl of Surrey, on 7 Oct. 38 Hen. VIII., at Kennynggale, in the house of Thomas duke of Norfolk, his father, openly used, and traitorously caused to be depicted, mixed and conjoined with his own arms and ensigns, the said arms and ensigns of the King, with 'thre labelles sylver.'" That is to say that Surrey was being charged with treason for combining his arms with royal arms. These royal arms were those of Edward the Confessor, which the indictment also stated belonged "to the said King Edward and his progenitors in right of the Crown of England, which arms and ensigns are therefore appropriate to the King and to no other person." As William Sessions points out in his book on Surrey, the earl did actually have "thehereditary right to bear in his own coat of arms the arms of St Edward the Confessor, the sign of the English monarch", but his redesign of his arms was twisted into evidence that Surrey was looking to usurp King Henry VIII and the now paranoid king believed it.
Surrey pleaded "not guilty" to the charge of high treason and, as you can see from Charles Wriothesley's account, Surrey defended himself from 9am until 5pm – 8 hours! But however spirited his defence, he ended up being found guilty. He was sentenced to be "led through the city of London to the gallows at Tiborne [Tyburn], hanged, disembowelled, &c. (as usual)."
As he was a gentleman, his sentence was commuted to beheading and he was executed on Tower Hill on 19th January 1547.
Notes and Sources
Letters and Papers, Foreign and Domestic, Henry VIII, Volume XXI. ii. 697.
Sessions, W. A. (2003) Henry Howard, the Poet Earl of Surrey: A Life, Oxford University Press, p. 393-34.