Posted By Claire on January 28, 2018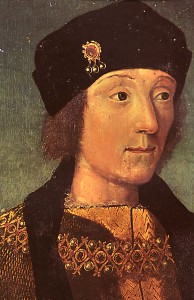 On this day in history, 28th January 1457, thirteen-year-old Margaret Beaufort, Countess of Richmond and wife of the late Edmund Tudor, Earl of Richmond, gave birth to her first and only child at Pembroke Castle in West Wales.
She named the infant Henry after his half-uncle Henry VI and, like his half-uncle, Margaret's son grew up to be a King of England. Henry took the throne as King Henry VII after he defeated King Richard III at the Battle of Bosworth on 22nd August 1485. He married Elizabeth of York, eldest child of the late King Edward IV in 1486, thus uniting the Houses of Lancaster and York, and the couple went on to have seven (possibly eight) children, although only four survived infancy: Arthur, Margaret, Henry and Mary.