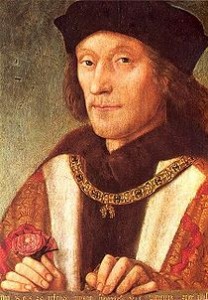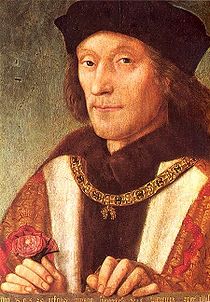 On 28th January 1457, thirteen year-old Margaret Beaufort gave birth to a son at Pembroke Castle, West Wales. The infant was named Henry after his half-uncle Henry VI.
Henry's father Edmund Tudor, 1st Earl of Richmond, had died from the plague three months earlier (while imprisoned by Yorkists) so his mother had been taken in by her brother-in-law, Jasper Tudor, Earl of Pembroke. Henry's paternal grandparents were Owen Tudor, a former page to Henry V, and his wife, Catherine of Valois, the widow of Henry V and mother of Henry VI. His maternal grandfather was John Beaufort, 1st Duke of Somerset, and his maternal great-grandfather (John Beaufort, 1st Earl of Somerset) was a son of John of Gaunt, 1st Duke of Lancaster, and his mistress (and later wife), Katherine Swynford. It was from this Beaufort side of the family that Henry VII derived his claim to the throne.
Debra Bayani, in her book on Jasper Tudor, writes of how Henry spent "his first four years at Pembroke Castle under the close guardianship of his beloved uncle Jasper" and that he was actually known as "Owen", his grandfather's name, by the Welsh people "for many years". Bayani quotes chronicler Elis Gruffydd:
"Many of the leaders and common folk of North Wales held their backs straight and foretold and firmly prophesied that he [Henry Tudor] would be king of England. There was still much talk about the king's true name and that some maintained that the name given to him at baptism was Owain, the name which was the name given in the prophecy to the deliverer who would do much good to Wales."
So, we could have had a King Owen instead!
Following the deaths of Henry VI and his son, Edward, Prince of Wales, in 1471, Henry Tudor became the senior Lancastrian claimant to the throne. After Richard III took the throne in 1483, Henry decided to stake his claim. On Christmas Day 1483, in Rennes Cathedral, France, the exiled Henry pledged to marry Elizabeth of York (daughter of the late Yorkist King, Edward IV, and the sister of the Princes in the Tower), thus gaining more support for his claim to the English throne. His descent from Rhys ap Gruffydd, the Lord Rhys, also gave him valuable Welsh support.
On 22nd August 1485, Henry Tudor and his troops defeated Richard III's forces at the Battle of Bosworth Field and Richard was killed. Henry VII was declared king and he was officially crowned at a coronation ceremony on 30 October 1485. He married Elizabeth of York on 18th January 1486 and the couple had four children who survived childhood: Arthur, Henry (Henry VIII), Margaret and Mary. Henry VII ruled for over 23 years and died on 21 April 1509, aged fifty-two. His achievements include:
Securing the throne and passing his crown unchallenged on to his son and heir, Henry VIII.
Uniting the kingdom and bringing peace to England after decades of unrest.
His reform of administration – e.g. The setting up of the Court of the Star Chamber.
Restoring the Crown's fortunes.
If you want to read more about Henry VII then I would recommend Thomas Penn's book Winter King. You can also read more about him in the following articles:
Notes and Sources
Jasper Tudor: Godfather of the Tudor Dynasty by Debra Bayani, revised edition due for publication February 2015