Posted By Claire on November 28, 2017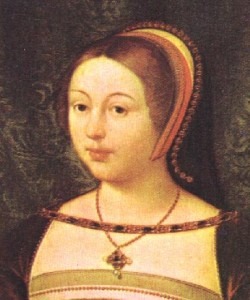 On 28th November 1489, Elizabeth of York, queen consort of King Henry VII, gave birth to the couple's second child and eldest daughter at Westminster Palace. The couple named her Margaret after her paternal grandmother, Lady Margaret Beaufort, and she was baptised at St Margaret's Church, Westminster, on 30th November.
Margaret spent her childhood at Sheen and at Eltham Palace, but was sent to Scotland at the age of thirteen to marry James IV following the 1502 Treaty of Perpetual Peace between England and Scotland. Margaret and James had been married by proxy on 25th January 1503 at Richmond Palace but married in person on 8th August 1503 at Holyrood Abbey.