Posted By Claire on February 24, 2016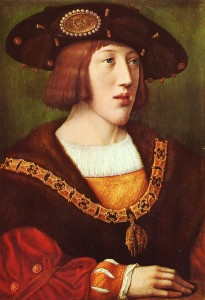 On this day in history, 24th February 1500, Charles V, Holy Roman Emperor, was born in Ghent.
Charles was the eldest son of Philip I of Castile (Philip the Handsome) and Juana of Castile, who has gone down in history as "Juana la Loca" (Joanna the Mad). Charles's maternal grandparents were the famous "Reyes Católicos" (the Catholic Monarchs), Isabella I of Castile and Ferdinand II of Aragon, and his maternal aunt was Catherine of Aragon, first wife of Henry VIII. Charles's paternal grandparents were Maximilian I, Holy Roman Emperor, and Mary of Burgundy.
Charles became King of Spain, as Charles I, in 1516 and Holy Roman Emperor in 1519. The dispatches of his ambassador, Eustace Chapuys, keeping Charles up to date on things at the English court have proved very useful to historians, researchers and authors.
Click here to read more facts about Charles.
Image: A young Charles V after drawings by Bernard van Orley.