11 February 1466 and 1503 – Elizabeth of York's birth and death
Posted By Claire on February 11, 2016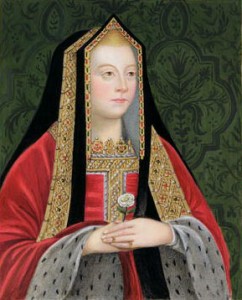 11 February is the date of both the birth and death of Elizabeth of York, consort of King Henry VII. Elizabeth was born on this day in 1466 and she died on this day in 1503.
Elizabeth was the eldest child of King Edward IV and his consort Elizabeth Woodville and was born on 11 February 1466 at Westminster Palace, London. She was baptised in St Stephen's Chapel in Westminster Abbey, with the Earl of Warwick standing as godfather and her grandmothers, the Duchesses of York and Bedford, standing as godmothers. She was named Elizabeth after her mother and was soon given her own household at Greenwich Palace under the care of Lady Margaret Berners.
You can also read an article on Elizabeth by Sarah Bryson – click here.