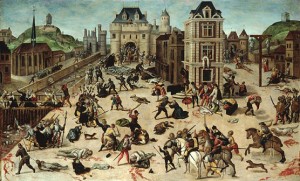 On this day in history, 24th August 1572, during the reign of Henry VIII and Anne Boleyn's daughter Elizabeth I, 3,000 Huguenots (French Protestants) were massacred in Paris and a further 7,000 in the provinces.
A bloody day in French history and the Reformation.
You can read all about the events of August 1572 in my article over at The Elizabeth Files – "St Batholomew's Day Massacre".
Perhaps today would be a good day to remember those who have died for their faith, no matter what their religion.