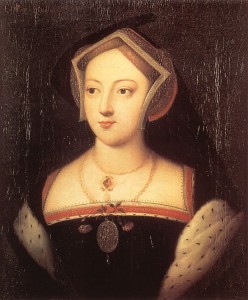 On this day in history, 22nd June 1528, Mary Boleyn lost her husband, William Carey, in the sweating sickness epidemic which swept through the English court and London in May and June 1528. Mary's sister Anne, her brother George, and her father Thomas also caught the disease but fortunately recovered.
We know about Carey's death from a letter written by Thomas Heneage to Cardinal Wolsey on 23rd June 1528, in which he mentions not only Anne and George Boleyn recovering from the sweat, but also William Carey wanting to remind Wolsey of his promise regarding his sister and the position of prioress at Wilton Abbey:
""Laud be Jesu, the King's grace is very merry since he came to this house, for there was none fell sick of the sweat since he came hither, and ever after dinner he shoth (shooteth ?) to supper time. This morning is told me that Mistress Ann and my lord of Roxfort had the sweat, and was past the danger thereof." Mr. Carre (Carey) begs you to be gracious to his sister, a nun in Wilton Abbey, to be prioress there, according to your promise. Mr. Tuke is here, and lies in the court under the King's privy chamber, so that he may come at the King's pleasure. At every meal the King sends him a dish from his table. The King will tarry here 14 days. Hunsdon, 23 June.
This night, as the King went to bed, word came of the death of Wm. Care."
Mary and Carey had been married since 4th February 1520 and had two children, Catherine and Henry, born in 1524 and 1526 respectively. Carey's death left Mary in dire financial straits and she ended up writing to the king for help.
Also on this day in history…
1535 – The execution of John Fisher, Bishop of Rochester, for treason after he refused to take the Oath of Succession and accept Henry as the Supreme Head of the Church of England. Click here to read more about his fall and execution.
1536 – Henry VIII's eldest daughter, Mary, finally submitted to her father and accepted her father as Supreme Head of the Church in England and the invalidity of her parents' marriage. Click here to read more.
Notes and Sources
Picture: Portrait of an unknown woman, possibly Mary Boleyn.
'Henry VIII: June 1528, 21-30', in Letters and Papers, Foreign and Domestic, Henry VIII, Volume 4, 1524-1530, ed. J S Brewer (London, 1875), pp. 1929-1947. British History Online http://www.british-history.ac.uk/letters-papers-hen8/vol4/pp1929-1947, 4408.