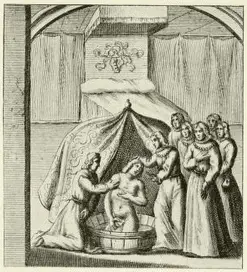 On the 22nd or 23rd June 1509, just before his joint coronation with Catherine of Aragon on 24th June, King Henry VIII created 24 Knights of the Bath in a special ceremony at the Tower of London.
Letters and Papers names these knights as "Richard (sic) Radclyff lord Fitzwater, the lord Scroop of Bolton, the lord Fitzhugh, the lord Mountjoye, the lord Dawbeney, the lord Brooke, Sir Henry Clyfford, Sir Maurice Berkeley, Sir Thomas Knyvet, Sir Andrew Wyndesore, Sir Thomas Parr, Sir Thomas Boleyne, Sir Richard Wentworth, Sir Henry Owtrede, Sir Francis Cheyny, Sir Henry Wyotte, Sir George Hastynges, Sir Thomas Metham, Sir Thomas Bedyngfeld, Sir John Shelton, Sir Giles Alyngton, Sir John Trevanyon, Sir William Crowmer, Sir John Heydon, Sir Godarde Oxenbrige and Sir Henry Sacheverell."
You will recognise the names of some of the men listed there – Sir Thomas Parr, Catherine Parr's father; Sir Henry Wyatt, poet Thomas Wyatt the Elder's father; Sir John Shelton, uncle of Anne Boleyn, and, of course, Thomas Boleyn, father of Anne Boleyn. Thomas Boleyn's wife, Elizabeth, served as one of the "baronesses" of the Queen's Chamber at the coronation of Henry VIII and Catherine of Aragon on 24th June 1509.
Thomas Boleyn was an important man. He had served Henry VII loyally, escorting his daughter, Margaret, to Scotland to marry King James IV, and had been appointed an esquire of the body before the king's death. The new king kept him on and he continued to rise in Henry VIII's reign, being appointed Keeper of the Foreign Exchange in Calais in July 1509 and serving as a diplomat at the court of Margaret of Austria in 1512-13. You can read more about Thomas Boleyn's rise and his career in my article In Defence of Thomas Boleyn, Father of Anne Boleyn.
You can read more about the Order of the Bath and the traditional ceremony in my article about the knights created for Anne Boleyn's coronation in 1533 – click here.
Notes and Sources
'Henry VIII: June 1509, 16-30 ', in Letters and Papers, Foreign and Domestic, Henry VIII, Volume 1, 1509-1514, ed. J S Brewer (London, 1920), pp. 36-55. British History Online http://www.british-history.ac.uk/letters-papers-hen8/vol1/pp36-55.
Hall's Chronicle, p. 507 – Letters and Papers dates the ceremony to 23rd June, whereas Hall dates it to 22nd June.